Avon Co-op is a place where we expect to see children playing busily, safely and happily. In their play, they learn to develop motor skills, knowledge and patterns of social behaviour that fall within the limits of their capacity. Each child is unique and such uniqueness should be cherished.
Mission Statement
Supporting families and their children as they learn through play; fostering each child's individual social, emotional, and cognitive development as they learn to live in the world around them.
Program Statement and Implementation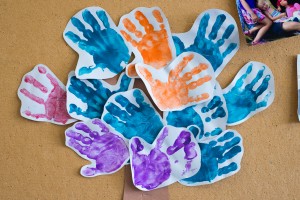 At Avon Co-operative Nursery School, we follow How Does Learning Happen? Ontario's Pedagogy for the Early Years; in order to be consistent with the Minister's policy statement on programming and pedagogy, which reflects children as being competent, capable, curious and rich in potential. This Program Statement is reviewed and revised annually to reflect our current goals from a programming perspective. As our staff continues to learn, we continue to improve, therefore our program continues to evolve and improve as well.
The Foundations and Goals of How Does Learning Happen?
Belonging

Every child has a sense of belonging when he or she is connected to others and contributes to their world.

Well-Being

Every child is developing a sense of self, health, and well-being.

Engagement

Every child is an active and engaged learner who explores the world with body, mind, and senses.

Expression

Every child is a capable communicator who expresses himself or herself in many ways.
It is our aim at Avon Co-op to provide a program that encompasses these goals. The following section outlines our goals and the approaches used to implement and achieve them.
Goal #1: To develop a strong sense of belonging in the children, families and educators who are involved with our school.
This goal encompasses: Section 46(3)CCEYA (b) Support positive and responsive interactions among the children, parents, child care providers and staff; (g) incorporate indoor and outdoor play, as well as active play, rest, and quiet time into the day, and give consideration to the individual needs of the children receiving child care; and (i) involve local community partners and allow those partners to support the children, their families, and staff.
Approaches to Achieve Goal #1: Avon Co-op lays the foundation of and for a positive learning environment for the children who frequent our school. By attending our nursery school, a sense of belonging will grow in children as they develop a secure relationship with their own teacher, the other teachers within the school, and the entire program's staff. Children develop a sense of belonging by interacting with their peers in a positive manner through self-directed play and engaging activities. This is measurable and noticeable when observing the interactions between the children and their families and our staff. This sense of belonging develops and strengthens over the course of the family's time at our school.
Furthermore, Avon Co-op values being a visible part of our community, and we demonstrate this in a number of ways. We frequently have community partners involved in our school programming. This creates a dynamic program that benefits the children within our school. It allows them to experience new and different things while creating a sense of belonging in the community. We enjoy hosting community programs such as yoga, music, dance, French, and more. The programming at Avon Co-operative Nursery School also includes opportunities for the children to visit places within the community such as a local farm, and outdoor Conservation education facility, parks, and more; thus providing the children with enriching experiences. One new aspect of our program that we truly value, and are currently and continually trying to expand upon, is that of inter-generational programming. We visit local nursing and retirement homes throughout the school year in order to foster cooperation and promote interaction between the different generations. This programming benefits not only the children and staff of our nursery school, but also the residents and staff of the nursing/retirement homes. It is ever important to all involved in the programming aspect of our school to be able to provide these experiences to the children in our care and to be actively involved in our community. Providing these experiences has value beyond the toddler and preschool years. The experiences that the nursery school child is engaged in directly respond to the idea that children are competent, capable, curious, and rich in potential. Through making observations of the children in the various community-based elements of our program, the staff can document the child's sense of self-confidence increasing.
We offer engaging activities both indoors and outdoors that allow for many different types of play including active, quiet, co-operative, and parallel play. The uniqueness of our Preschool Program and it's free-flow nature allows children to choose their activities based on their own individual interests. Our program as a whole, both Toddler and Preschool programs, are strengthened by observing children and their interests and planning for activities that support and follow this direction. Observations are made and documented by the RECE staff and thus, parents are able to see the progression and development of the children throughout the school year.
Goal #2: To develop a strong sense of well-being for the children, families, and educators involved in our school.
This goal encompasses: Section 46(3) (a) promote the health, safety, nutrition, and well-being of the children and (j) support staff… or others who interact with the children at a child care centre… in relation to continuous professional learning.
Approaches to Achieve Goal #2: A child's developing sense of well-being and self will be encouraged while learning about healthy day to day habits such as hand washing and healthy eating during daily routines. Families take turns providing snack for their child's class. This is an element to our program that allows for learning opportunities regarding nutrition. Children take pride in what they brought to share with their classmates and various snack items spark many discussions and learning opportunities. A child's sense of well-being is also developed while spending time at Avon Co-op through the knowledge they are cared for and valued for who they are. They will feel secure in the relationships they develop with their peers and teachers, and this will have a positive impact on their sense of well-being. These relationships and learning opportunities lead to an increase in awareness about how people live, cooperate, and interact successfully.
Goal #3: To develop a pattern whereby the children, families, and educators who are involved in our school are actively engaged.
This goal encompasses: Section 46(3) (d) foster the children's exploration, play and inquiry; (e) provide child-initiated and adult-supported experiences; (f) plan for and create positive learning environments and experiences in which each child's learning and development will be supported; and (k) document and review the impact of the strategies set out in clauses (a) – (j).
Approaches to Achieve Goal #3: By interacting with the other children in the program, the teachers and the program staff, the children at Avon Co-op will learn about their world and how they fit into it. Our program offers interesting, engaging, and open-ended activities, provocations, and child-directed experiences that are meant to allow children to learn using all of their senses and experience what is around them – body and mind. This will encourage them to become invested and fully engaged in their own interests. Thus, allowing the children to take control of their own learning and consequently setting the stage for successful educational experiences in the future.
Goal #4: To ensure that children, families, and educators involved with our school are able to engage in effective and meaningful communication and methods of expression.
This goal encompasses Section 46(3) (c) encourage the children to interact and communicate in a positive way and support their ability to self-regulate; and (h) foster the engagement of and ongoing communication with parents about the program and their children.
Approaches to Achieve Goal #4: At Avon Co-op we engage in effective and engaging communication and interactions with our children and their families each day; thus, creating an extension of the home environment where comfort and positive experiences are of utmost importance. By being able to take charge of their own experiences, children who attend Avon Co-op will benefit as they become active learners who are able to express themselves and communicate in an effective way. We always talk with each family, each day either at arrival or dismissal or at both times. We can see effective communication and its benefits each day when interacting with the children and their families.
Final thoughts on the measurable outcomes of our goals: Our program focuses on our core values at Avon Co-operative Nursery School. We believe that children are important. We feel that children need the opportunity to discover how to interact with others in a safe and nurturing atmosphere as they develop their self-worth, confidence, and communication skills. Expressing their thoughts, feelings and acceptance of others is encouraged through our programming. Those with different abilities and capabilities are welcomed, accepted, and valued equally. Our teaching staff uses their observational skills to document each child's progression with regard to each goal. We can measure the achievement of the goals through these observations and documentation and by communicating and listening effectively and purposefully with families and fellow educators.
We appreciate and include many different aspects within our program to create a well-rounded, interesting and exciting experience for the children with whom we are privileged to spend our mornings.
Our Co-operative Nursery School Program
Our co-operative has a dual purpose: to promote greater understanding by parents in matters related to early childhood education, and to provide an excellent first school experience for the children.
This is our purpose as well as our goal at Avon Co-op. In order to be successful we all must work together. Our handbook has been compiled to assist you in becoming familiar with the policies and guidelines by which the school functions, as well as, to acquaint you with the school philosophy and our program and all the elements of it. Our handbook will also give you some helpful hints on your role as an engaged parent. We encourage you to read it and refer to it throughout the school year.
A set of the by-laws by which our school is governed are available at the school.
We hope that the handbook will help you to be more knowledgeable regarding the organization and day-to-day functioning of Avon Co-operative Nursery School.